1,001 LAUGHS
Palestine Comedy Festival
Ramallah, Jerusalem, and Bethlehem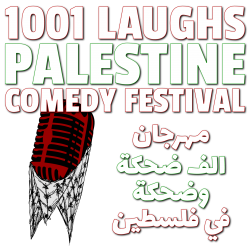 Founded and Produced by our good friend Amer Zahr, the 1001 Laughs Palestine Comedy Festival gives the audiences of Palestine 5 consecutive days of live stand-up comedy in Ramallah, Jerusalem, and Bethlehem, entertaining over 2,000 people.
---
Why have a Comedy Festival in Palestine?
The festival does not only seek to entertain. Comedy serves an important social purpose as well. Laughter is a universal language, shared by all peoples. Laughter also humanizes. Perhaps the greatest challenge for Palestinians is that we are too often misunderstood or mistreated in the media, frequently depicted as "non-human." Comedy, like much art, can help to solve this issue. Comedy is about preserving narratives and championing freedom of expression in the arts. The festival will only be a success if it serves as a gateway to the world to discover more about our culture and people.
---
We can only make the festival happen with your help!
So, why do we need money?
In the past, the US State Department funded this project. For a number of reasons, the festival no longer seek nor desire the sponsorship of the American government. We are looking for sponsor/s to help us raise the budget of at least $80,000 that we need to make the festival a success.
---
All sponsorship will be used for:
Flying all comedians round-trip from America to Palestine
Performance fees for 6-8 shows for each artist
Hotels and meals for the artist during the stay
Rental of stages in Palestine
Production costs (lighting, sound, staging, organization, etc)
Promotional costs (online advertising, flyers, banners in Palestine)
Lots of shawarma sandwiches